Frequently Asked Questions (FAQ)
What does "upcycled" mean?
Upcycling means we use a t-shirt and do more than just "recycle" it; we sew it up and transform it into a beautiful one of a kind (OOAK) creation just for you! Most of our dresses are made with 100% new materials. If we sew with any used shirts, we make sure they are still like new and all of our fabric, we purchase new.
If you are sewing these garments yourself, will the dresses look homemade and fall apart?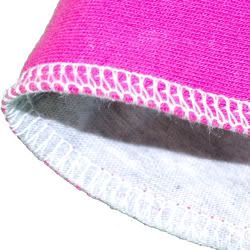 Absolutely not. We use a serger to piece together and sew all seams of the dresses. This is the same type of machine and finish you see on any commercial t-shirt. The machine uses 4 spools of thread and creates an intricate looping pattern to effectively secure the garment and insure it holds up. We sew each piece with care and love, and we are confident you'll receive compliments and inquiries from people who want to get one of their own! :-)
We currently offer children's dresses starting at size 6-12 months and all the way up to size 13/14. We also offer doll dresses that fit 10" and 15" dolls such as American Girl, Bitty Baby, Pottery Barn, Waldorf dolls, or other similarly-sized dolls. We are currently expanding our sizes and selection of women's clothing. Because each dress is uniquely handmade, we don't have set patterns or a hard-and-fast size chart, and as parents know, a size 6-12 month could be a night and day difference between various brands. To make it simple, we post the measurements of all finished and ready-to-ship (RTS) dresses, so you will know exactly how it will fit your little one. Please see sizing for more information. For the custom dresses, we ask for your child's measurements, so we can best determine which size will best fit your child and allow for plenty of wear.
How can I make a custom order?
Simply add the "Sew Priddy Custom Dress" to your cart and complete the checkout process. You will then receive an email from one of our designers within one business day to communicate with you further about your exact requests. We do not begin creating your custom order until we have received your approval on the design and fabric choices.
I have a t-shirt that I would love a dress made out of. How should I proceed?
Simply add the "Sew Priddy Custom Dress" to your cart and complete the checkout process. You will then receive an email from one of our designers within one business day to communicate with you further about your exact requests, and we provide you with our mailing address, so you may send us your shirt. If you're providing your own t-shirt, you'll also receive a discount.
How long will it take to get my order?
While we ask that you allow 2-4 weeks once we receive your complete custom request, we do our best to get your order to you MUCH faster. The estimate allows adequate time for us to procure coordinating fabrics if needed for your order. If you need to place a rush order, we can typically accommodate the request. Please contact us to discuss the rush options currently available.
What payment methods do you accept and how will the charge appear on my bank account / credit card statement?
We currently accept all major credit card brands via Paypal. You do not need a Paypal account in order to checkout and pay via paypal. When you get your billing statement, it will say "PAYPAL*SEW PRIDDY" for charges from our website. NOTE: Please double check your shipping address when checking out through paypal.
We currently ship to any physical address in the USA. We ship via USPS with tracking, UPS Ground, Fedex 2nd Day, or Fedex Overnight for the fastest, most reliable, and cost-effective shipping and tracking. If you live in another country, please contact us directly for international shipping rates and options.
I love a dress that I saw on your website, how can I get one just like it?
Many of our dresses are one-of-a-kind (OOAK), meaning we purchased one t-shirt and used the fabrics we had at the time to make the dress. It is highly likely that we have or can obtain another identical shirt, and it is possible we may still have the same fabrics in stock. We recommend that you place a custom order and specify which dress you liked and what you liked most about it, so we can communicate with you further to determine what we can create for you. Please note that depending on the size of dress requested and the availability of the size of the shirt used in conjunction of the design, we may have to add pieces to the sides of the dress to make it work, or we may have to cut portions of the design off, if we are going smaller. We take pride in all of our creations and are very accommodating of our client's requests.
Are the character dresses licensed?
Sew Priddy items are upcycled, transformative art works. All of the dresses that feature trademarked characters have been handmade using fabric or t-shirts that are authentic and licensed, however, SewPriddy has no affiliation with the original trademark holders. Our finished dresses are not officially licensed, although some of our dresses are made using materials that are licensed.
You donate money to fund cancer research?
Yes, with every dress we sell, we are donating money to fund cancer research. Please read

Sock It to Cancer

to learn more.
What is your refund/return policy?
Sew Priddy prides itself on customer satisfaction. Sew Priddy's ready-to-ship (RTS) merchandise is returnable for store credit or exchange if it is in its original condition: not worn, washed or damaged. Items returned due to defect or egregious error (receiving the wrong item) are eligible for a full refund of the purchase price. We require that you contact us and request a Return Authorization within 10 days after delivery of your merchandise. A 10% restocking fee will be applied for unauthorized returned items that were eligible for return.

Our return window is small due to the fact that our inventory and consumer demand is constantly changing.

Please use the contact form to request the return shipping address so that we know to expect your return and we can set aside stock for any exchange if it is available. Please note that Sew Priddy is not responsible for shipping costs for returns but we gladly pay the shipping costs to send items back to you for exchanges.

Made-to-order and custom items are final sale. We work hard to craft each dress to your specifications, and it is our ultimate goal to be sure you love your custom creation! All of our items are handmade and each piece has its own unique characteristics and style.

All sale item sales are final.

We stand behind our clothing 100%. Should you have any issues, please contact us. We want you to love every piece of Sew Priddy clothing as much as we do! Thank you for your business!